Meet the Data Stewards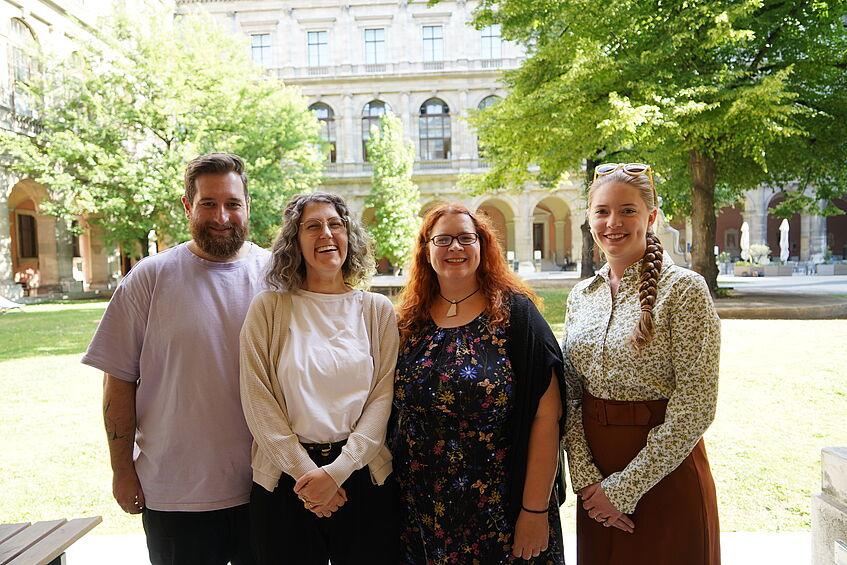 Tereza Kalová
Data Stewardship Coordinator
With over ten years of experience in librarianship and education, Tereza currently coordinates the data stewardship program at the University of Vienna. Together with a team of embedded data stewards, she develops needs-based Research Data Management services for researchers and students. She leads the certificate course "Data Steward" – the first further education programme for data stewards in Austria. Tereza holds a Research Master's degree in critical theory/children's literature (University of Reading, UK) and an MA in Library and Information Science (Humboldt University of Berlin, Germany). In her free time, Tereza enjoys going to amusement parks and listening to 70s music.
Monika Bargmann
Faculty of Philological and Cultural Studies Data Stewardess
Bringing people and information together is the common thread through Monika's over 25 years' of professional experience. She holds master-level degrees in Library and Information Science (FH Burgenland, Austria, and HBI Stuttgart, Germany) and in German Studies (University of Vienna) and is in the final stage of her Urban and Regional Development studies (University of Vienna, Postgraduate Centre). She worked as a journalist, librarian, data manager, and self-employed IT project manager before joining the University of Vienna. Her professional passion is currently the long-term preservation of websites and web applications.
Monika collects fiction with librarian characters, is a Trekkie and loves attending courses about forests and forestry.
Michael Feichtinger
Center for Microbiology and Environmental Systems Science Data Steward
Michael holds a degree in Chemistry and Philosophy from the University of Vienna. He joined the data steward team in October 2022 after several years as a researcher, delving into the fascinating world of intrinsically disordered proteins. Having personally experienced the pitfalls of inadequate data management, Michael is passionate about improving practices in this field. He enjoys educating young researchers, providing tailored support to scientists, and elevating their data management skills to new heights. In his free time, Michael immerses himself in Lynchian cinema and loves to quietly enjoy a cup of damn fine coffee.
Emily J. Kate
Faculty of Life Sciences Data Steward
Emily holds a BA in anthropology and archaeology from the College of Wooster in Ohio and earned her Ph.D. in anthropology and demography from The Pennsylvania State University. She joined the UNIVIE data stewardship team in March of 2023. Emily describes herself as "scientifically nosey" and enjoys connecting with scientists and developing custom solutions that meet their unique requests. In addition to helping researchers make their data management dreams come true, Emily is an avid baker and loves picnicking on the Danube with her husband, Zachary, and her perfect dog, Zoa.